I mentioned in my last post that I am currently in love with a Target-found roll of green and white contact paper.
I also mentioned that I used and abused that roll until there was, sadly, nothing left. Target? If you're listening, can you please make more cheapo-beautiful paper for us junkies out here? I could really use a different pattern so my house doesn't get overloaded, because - dang, I have a lot of stuff I wanna cover. Please? Just a thought.
Anyway, here are the two other projects I used it for - just to emphasize that you can really use this stuff for any.thing.
Project 1: An old built-in glassware cabinet
So let me preface with the fact that we have an overload of dark wood in the house - being from the mid-1800's, dark wood was in fashion back then, right? :) And don't forget, our house lived through the seventies too...so anything that wasn't already naturally dark, was painted dark. And then contrasted with mustard yellow walls and olive green appliances...and gothic lanterns... Ugh. I'm honestly amazed we even bought the house! :)
And us, being commitment-phobes to any type of paint color, we have attempted to lighten the house over.... but verrrry slowly. We have changed the obvious ridiculousness, (like the black fireplace and the black counter tops with a fake brick back splash - so much black!) but there are some parts of the house that a grander scale change is needed, and we just don't have that kind of foresight...nor do we play nice together in the field of decorating/design.
Usually it goes like this:
Me: Hmm... I think we need to paint the living room walls a moss green color. I think it would look nice with the dark beams and let some of the outside in. (We have a picture window with forest right outside)


Him: (Rolling on the floor, kicking and flailing arms)
Me: It wouldn't be that hard! And once it's done, we will be done for a while - and you won't hear a word from me for at least 10 years.
Him: White is FINE. I don't understand why you need to change the color every 10 years.
Ugh. Yep - he's the don't-put-anything-on-the-walls-and-ruin-my-drywall-work kind of guy. White, bare walls? Shouldn't he have been a monk, living in a monastery? Really? I've been fighting this for 11 years now, so I'll keep working...but for now - I just do a little here, little there - and hope he doesn't notice. The worst is that he doesn't have an opinion until I do something...and then he hates it. :)
This project was a great example. The cabinet is a very shallow built-in - pretty glass doors, even though the leaded glass is buckling a bit in some areas and it's a bear to keep clean. The built-in has a dark wood backing, and it's set in a wall that has dark wood paneling. We've discussed what to do with the walls for ages, and now I think I know what to do - upcoming post! So, we'll see if I can get it approved by the Monk. To start, I knew I wanted to isolate the built in, make it stand out a bit.
Enter fantabulous Target paper yet again. :)
Here's the before:
Dark, dark, dark.
After: I really like it! I like the light green and white and the dark wood together - even though white would be better... in someone else's house, but for our house...baby steps.
I think if we tackle the wall surrounding with some cool grass-textured wall paper, we can leave this as is! I would like to see lights installed in here to brighten up the glassware even more, and let the green really pop. I didn't like the leaded glass pattern when we moved in, but it has grown on me considerably - it just has so much character. Now I love it! And I am all about working the new around the old character if you can.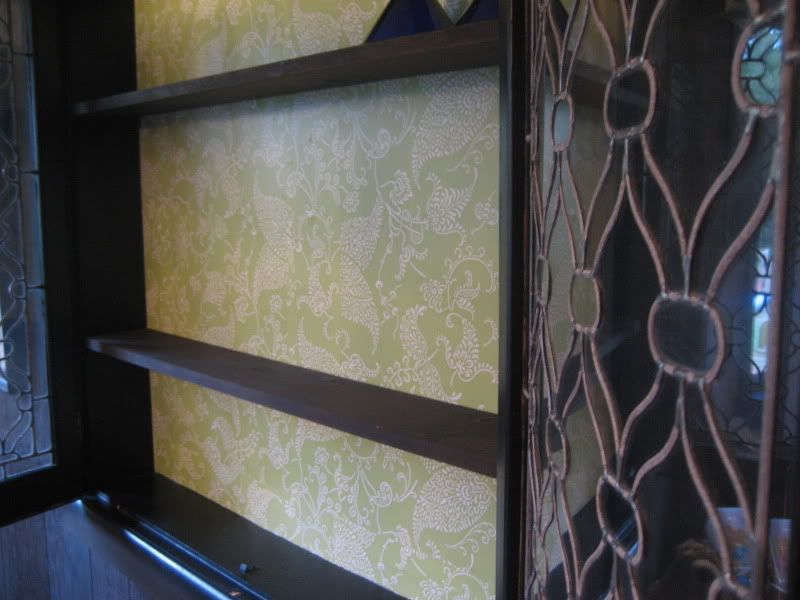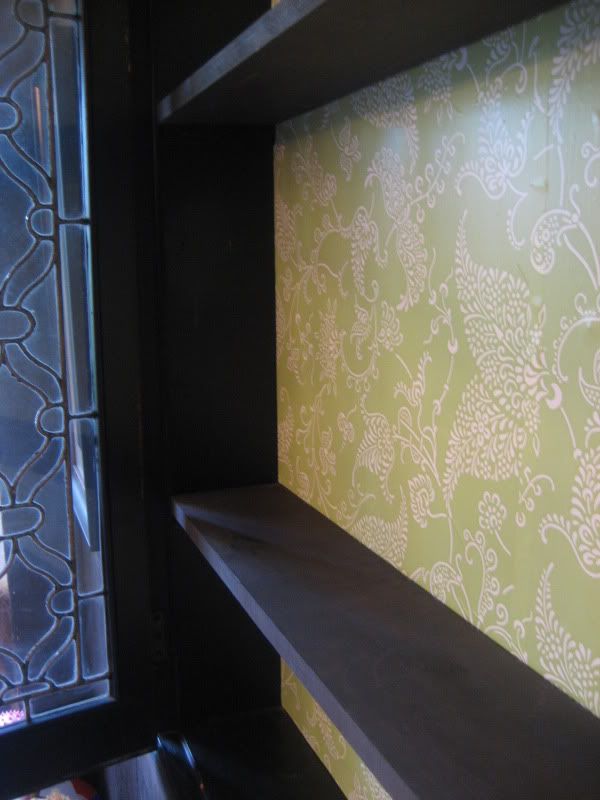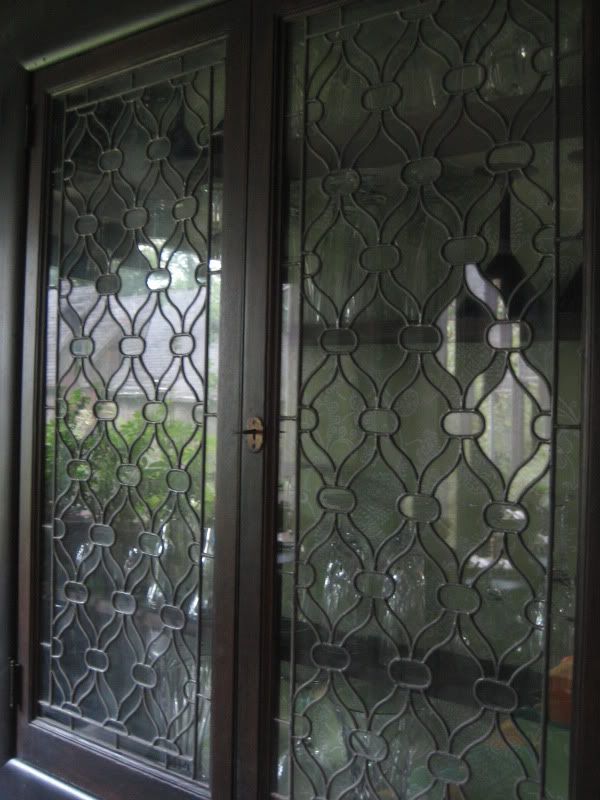 Plus, a different, more optimized shelf layout would be in order as well. Some space is wasted! And I just can't deal with that. :)
The point with this...it took about a week for him to notice, but the Monk casually mentioned one day..."It was a good idea, but did you have to use that awful green stuff?" *sigh* I have a lot of work to do.
Second project: Make a photography backdrop.
I'm still in the process of creating a pet (and people!) portrait photography business...I've been "practicing" for about a year and a half now...and one day, I had a maternity shoot with my sister's friend - my first one! The day she was coming over, I realized I wished I had some cool wallpaper on my walls for a neat backdrop. I looked over at the roll just recently used...and thought...hmmm - if only I could wallpaper my walls with that! Ok, so I'm not that smitten... but a little slice would be nice! I decided to snag a large piece of plywood from the Monk's garage stash and I recovered that. Voila! Instant, move-able and a very pretty backdrop. I've been using it quite a bit, and I love that it's portable. :)
Here it is in action: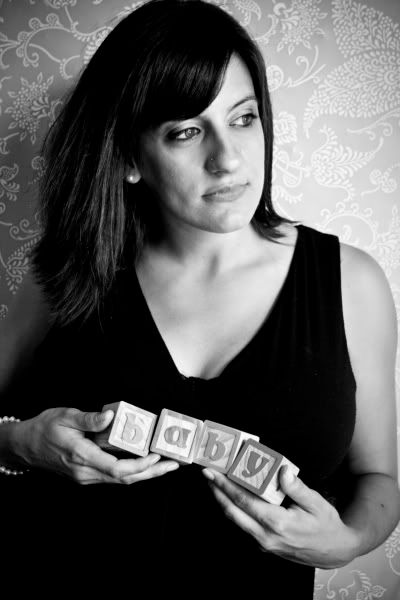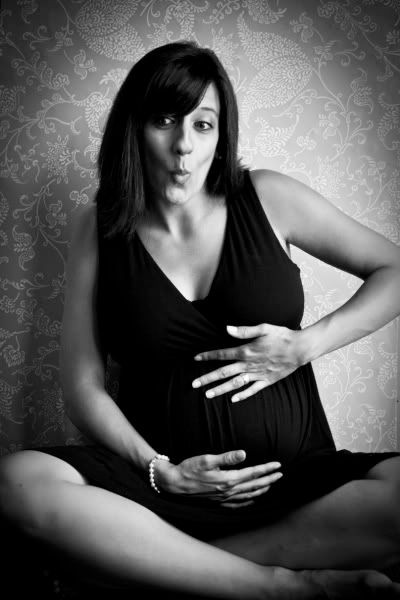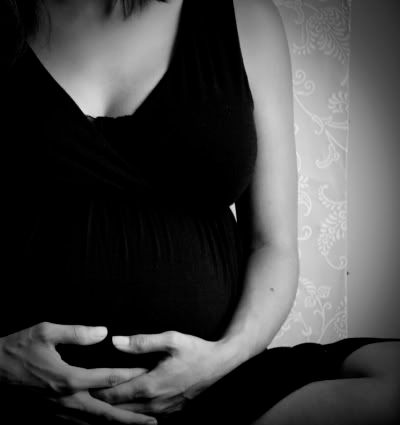 Proof that it's one multitasking mother of a paper. :)